RESOURCES
After serving thousands of dentists and over one-million patients—we
compiled this list of the most frequently asked questions and resources. If you
have a question that isn't answered here, simply give us a call at (800) 872-8305.
Frequently Asked Questions
WHAT ARE ORASOOTHE PRODUCTS MADE OF?
OraSoothe 'Sockit' Gel is made from food ingredients, with no artificial components. OraSoothe contains mannose polysaccharides from Aloe vera, xylitol and a tiny amount of essential oils of cinnamon, clove, and thyme. OraSoothe Professional Rinse and OraSoothe Hygiene Rinse are made from food ingredients, with no artificial components. They contain mannose polysaccharides from Aloe vera, xylitol and a tiny amount of essential oils of cinnamon, clove, thyme, and wintergreen.
HOW MUCH ORASOOTHE "SOCKIT" GEL SHOULD BE APPLIED TO EXTRACTION SITES?
Enough OraSoothe Gel should be applied to the extraction site to completely coat and cover the wound. Excess gel will not remain in place and will be swallowed.
ARE ORASOOTHE PRODUCTS COVERED BY INSURANCE?
Companies that have reimbursed for treatment with OraSoothe include Aetna, United Healthcare, Cigna, Delta Dental, Comp Dent, Met Life, and others. Insurance code 9630 is used. In Canada, the following insurance codes are used: 41301, 41302, and 41309.
HOW DOES ORASOOTHE RINSE WORK?
First, swishing the rinse creates an ultra-thin film that protects the mouth from further irritation and contamination. Second, the negatively-charged gel binds the positively-charged sodium. This prevents the pain signal from being transmitted to the brain.
OraSoothe does not numb the mouth like topical anesthetics (benzocaine, lidocaine, etc.) Unlike these drugs, OraSoothe is not absorbed into tissues and does not alter cell physiology.
HOW SHOULD ORASOOTHE PRODUCTS BE STORED?
They should be stored at room temperature or in a refrigerator. They should not be frozen. Avoid excessive heat.
ARE THERE ANY INTERACTIONS BETWEEN ORASOOTHE AND ANY MEDICATIONS, HERBS, SUPPLEMENTS, OR FOOD?
There are no known medical conditions, medications, dietary supplements or foods that would preclude one from using OraSoothe products.
ORASOOTHE RINSE IS CALLED AN 'ORAL COATING RINSE'—IS THIS DIFFERENT THAN MOUTHWASH?
Yes. Mouthwashes are often flavorful antiseptic liquids in attractive colors that freshen your breath. Many are labeled not to be swallowed. Their label also does not make claims about providing pain relief or promoting healing. Many contain alcohol. They are generally considered to be cosmetic. OraSoothe Rinse (Professional and Hygiene) is an oral coating rinse. It is noticeably thicker than mouthwash and is designed to coat the mouth. OraSoothe contains all-natural ingredients and is designed to be swallowed if desired. OraSoothe provides fast pain relief without numbing the mouth. OraSoothe Rinse is also shown to inhibit microbial contamination Orasoothe provides an optimal oral wound healing environment.
HOW OFTEN CAN ORASOOTHE "SOCKIT" GEL BE SAFELY REAPPLIED?
SockIt Gel may be applied as often as needed for unlimited applications. SockIt Gel is not restricted in applications as are other common topical products such as those that contain benzocaine.
ARE ORASOOTHE PRODUCTS SAFE FOR CHILDREN?
Yes. OraSoothe is composed of 100% food ingredients and is safe for use by individuals of all ages, regardless of health status or medical regimen. It is safe when swallowed.
ARE ORASOOTHE PRODUCTS SAFE TO SWALLOW?
OraSoothe products are comprised of all-natural food ingredients and is thus safe when swallowed.
OraSoothe 'Sockit' Gel Dealer Rep Brochure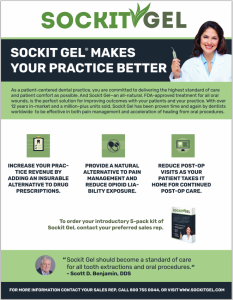 OraSoothe Professional and Hygiene Rinse Safety Data Sheet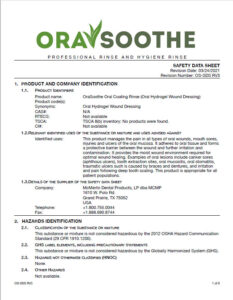 OraSoothe 'Sockit' Gel Safety Data Sheet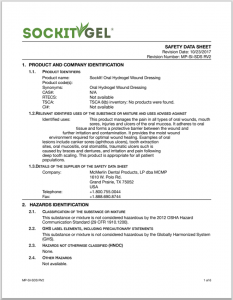 OraSoothe 'Sockit' Gel Patient Instructions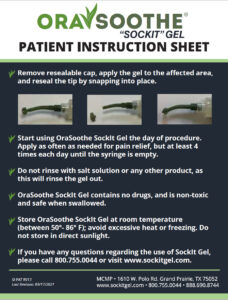 TRY ORASOOTHE® TODAY
For product questions, please call us at (800) 872-8305, or complete the adjacent form. To order Orasoothe for your practice, simply reach out to your preferred dental supply rep. For more information about Septodont products, please visit us at www.septodontusa.com