Advancing the Science of Oral Wound Care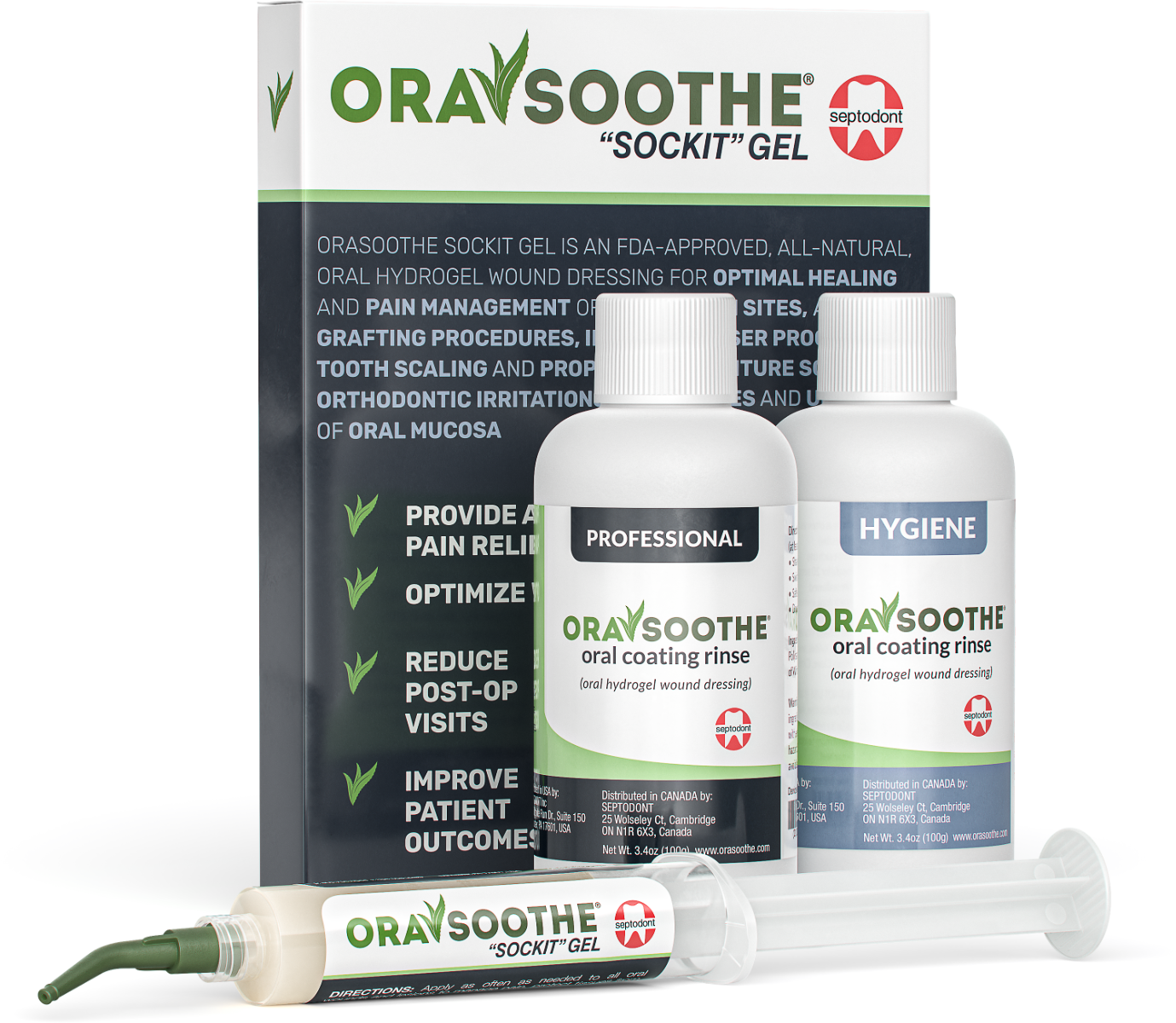 "Orasoothe should become the standard of care for all tooth extractions and oral surgical procedures."
Increase PRACTICE REVENUE
There are many ways to make your dental practice more profitable, but OraSoothe products offer a high-margin, insurable solution that adds revenue you are currently not producing when you write prescriptions for pain management. OraSoothe products are an ideal application for a wide variety of procedures including extractions, implants, laser procedures, bone and soft-tissue grafts, perio procedures, hygiene procedures and even restorative procedures that may result in tissue damage or discomfort. By incorporating OraSoothe into your practice, you will find the incremental revenue quickly adds up.
COVERED BY MOST DENTAL INSURANCE
A PAIN MANAGEMENT ALTERNATIVE
LESS DRUGS, LESS LIABILITY
In a recent survey of over 18,000 dental patients—over 40% reported having fear of pain when visiting the dentist. The good news is OraSoothe products—all-natural, FDA-approved treatments for all oral wounds—offer your practice an effective alternative for pain management. Also, OraSoothe provides an extra layer of protection to your practice due to the growing publicity and liability of prescribing opioids. In fact, dentists were recently cited as the 2nd leading opioid prescribers next to family physicians.
OraSoothe products are very simple and convenient for you and your patients to administer. OraSoothe features a custom-molded applicator tip that easily reaches the affected site. Both the gel and rinses have a pleasant fragrance and taste—which is especially appealing to patients. Your patients take OraSoothe products home with them to use as needed for continuous pain relief, and to enhance healing, which significantly reduces post-op visits. Providing optimal post-treatment care to your patients enhances your reputation and helps build your practice.
Happy Patients Make Happy Dentists
THE OPIOID CRISIS ISN'T OVER
FEATURE: Opioid Crisis Isn't Over
The COVID-19 pandemic has dominated the news, as well as our businesses and the lives of our patients.  It has also made the opioid and addiction epidemic even worse. OraSoothe products are a 100% natural, drug-free alternative to pain management and can help practices minimize their liability for writing prescription drugs.  For more facts and figures—review this article.
TRY ORASOOTHE® TODAY
Contact your dental supply rep, or:
Click
You may also complete the form to the right and someone will follow-up with you.